Richness of use for all
By Barbara Willecke
In the triad of the sustainability parameters ecology, economy, social, the social performance of open spaces has the same weight as the ecological and economic performance.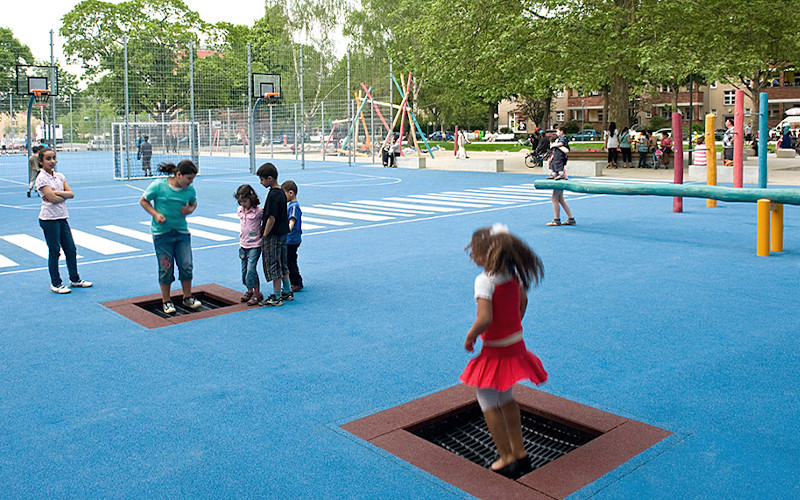 Responsibility and social relevance
By considering open spaces as social infrastructure, the focus is on the social aspects and potentials of open spaces. Thus, the social necessity of justice in the diversity of uses, the equitable dedication of budgets and land resources becomes visible and important. In addition, methods and processes that negotiate, decide, generate, and ultimately protect socially powerful open spaces in a socially diverse manner are gaining relevance.
Socially sustainable solutions in sometimes tough battles over the resources of landscape and urban open space are currently moving into the focus of politics, administration and society. Open space as social infrastructure can be an important argument for the preservation and valorization of open spaces.
In this sense, the social relevance and performance of our profession also appears in a new light; landscape architecture is not to be regarded merely as a nice "ad on" and open spaces as a "nice to have" that can be dispensed with in case of doubt. A change is taking place here, as our profession can and must live up to its new responsibility for spaces, budgets and usage requirements.

Barbara Willecke
Questions and strategy
Social dynamics make it necessary to share process and project experiences in open space planning and to work in an interdisciplinary way. Before answers can be given, questions have to be asked on an ongoing basis, and open spaces have to be considered as social infrastructure.
How to deal with dynamic social processes that bring about very concrete changes, e.g. in everyday life, social roles, gainful employment and family work - in different phases of life, against the background of diverse cultural and religious values and with a view to all user groups?
How to experience people's needs, take them seriously, integrate them, but at the same time not cement social roles and avoid allocations?
How can use- and user group-oriented processes and planning become the rule instead of being the exception?
How can spatial justice in the sense of equal opportunity be anchored in politics, administration, the profession and society?
Which disciplines can contribute to open space projects beyond landscape architecture? How can cross-disciplinary processes and planning be orchestrated here?
How can project experiences be made fruitful? How can a long-term effect, a social sustainability over a long period of time be achieved?
How can social needs be translated into space and form in a comprehensive, sustainable and timeless way?
Differences are normal
In order to give social value to open spaces, it must be understood and taken into account at all levels that needs in general and thus also demands on open spaces change with the life phases of the users. Their age, gender, need for support, social and cultural backgrounds generate needs that must be taken into account in public space and open space in general. Social infrastructure arises from the knowledge of concrete, location-related needs of all, i.e. also of potential user groups.
Planning should increasingly be an examination of what the users of a place need in their diversity and what their open space can and must provide for coping with everyday life.

Barbara Willecke
City inverse
If we look at the city or rural areas inversely, i.e. as a green plan and not as a black plan (of the buildings), it becomes clear how important the open spaces are in terms of area alone. If we look to the future in this context, thinking for example of demands for smaller dwellings and less densification, open spaces must in the future be social living spaces that can be used as compensation areas.
During the pandemic, everyone experienced a reality that otherwise only people with limited incomes know as everyday life. Leisure, recreation, sports and games, and social interaction were forced to take place in the immediate living environment, in open spaces. The social and spatial quality of open spaces (not only in the city), their suitability for everyday life for all age groups, all social classes was directly decisive for the individual quality of life and the social togetherness of all.
If
we can no longer fly to the world, but want to relax, work, meet, rest, take care of children, work on our doorstep,
we take a vacation in the park,
we look around in the woods and fields nearby,
we want to meet our fellow human beings and seek exchange in the living environment,
in the broadest sense, an "outside-to-home-being" is established,
people with different values, from different cultures come into contact,
must, among other things
the realities of life of all social groups must be taken into account and valued in a differentiated way,
focus on gender, diversity and inclusion as objective criteria for decisions, space, budgets and planning goals,
spatial equity and social performance are implemented as principles of provision.
This requires turning precisely to people's needs and addressing how they read spaces or are addressed by spaces and how they can use them.
Space as language, free space speaks
The social reality is subject to constant change, it makes adjustments, it is subjected to adaptations. Open spaces are part of this reality, change, take on new roles, can be assigned new tasks. Open spaces can and must be places of open processes, taking differences into account without cementing social or cultural attributions and roles.
Language also reflects reality. We are currently experiencing that, among other things, the reality of women's lives has resulted in a need for changes in language, which are now being accepted and implemented by the majority. Gender- and diversity-responsive language reflects the current understanding of justice and at the same time makes demands on society and reality. It gives space to new things, opens up new perceptions and thus opportunities. Language is always in flux and as dynamic as social processes.
Just as language transports meanings, adapts to them and makes communication and negotiation possible, space also speaks, spatial structures speak, its elements turn to the human being. At best, the latter feels understood, meant, seen and taken seriously, recognizes opportunities and possibilities to try out new things and oneself.
The entire vocabulary of how people read space and organize themselves in it is not trivial and requires knowledge, for example, of cultural differences and needs that are fed by different social roles.
The precise ordering of socio-spatial structures, borders and transitions, threshold areas, disadvantages, etc., and a kind of humility on the part of the planners pave the way to speaking spaces whose beauty (also) unfolds through use.

Barbara Willecke
Wealth and justice, looking at things from a broad perspective
In the context of space, human beings must be seen as territorial beings. Wherever there is a lack or a threat to one's own needs, conflicts arise. The solution: wealth of use for all, even on the smallest areas.
Spatial wealth and wealth of possibilities, of addressing, of appreciation of all groups of users generate density of use and thus social control. Space for equity is in the smallest area and requires complex solutions.
Important aspects of this are:
The coexistence of very different social groups generates wide-ranging, diverse, positive social control.
Peaceful places are created where, as far as possible, all social groups are present. Problems arise from the absence of individual groups.
Problems attributed to difficult user groups are in fact mostly problems arising from the space or lack of diverse uses.
Where people feel seen, meant, they enter into exchange more easily. In this way, diversity can avoid competition and the defense of territories.
The examination of needs is followed by the translation into functions and finally into form/design (form follows function).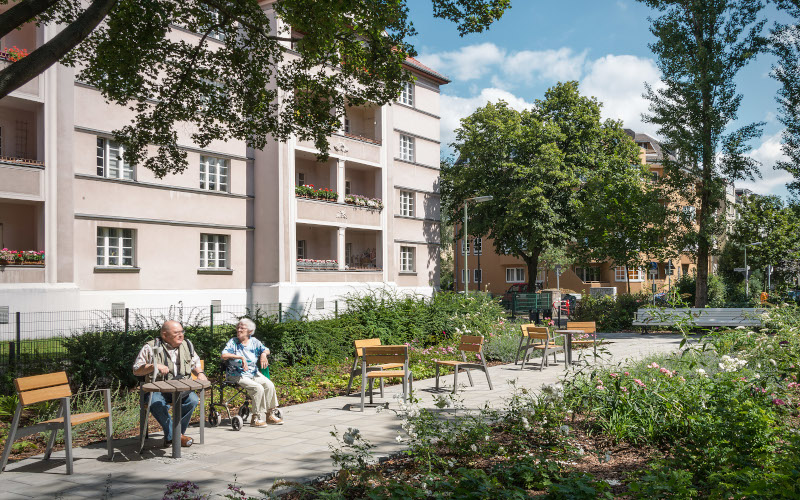 Proof of concept
The added value and effectiveness of gender-, diversity- and inclusion-friendly participation and planning practices can be demonstrated particularly well in so-called "difficult places", which, for example, went from being a crime hotspot to a place of peaceful coexistence, or from being a shunned to a beloved place, a "living room outside".
This is true not only for "neighborhood places" but also for all other categories of space. Precise observation, consideration of the diverse needs make the decisive difference - in the home garden as well as in the station forecourt, in street spaces, cemeteries, memorials, village squares, and so on. Diversity of use and diversity of users turn open spaces into sustainable, socially successful spaces. Socially successful open spaces have a preventive effect against vandalism and crime.
Gender-, diversity- and inclusion-oriented planning not only means multiple added value for the open spaces, but also the strengthening of the social relevance of landscape architecture and thus of landscape architects.
The balance between black plan and inverse plan, i.e. between built and open space, can be renegotiated and differently against the background of social justice and performance of open spaces. Equality of opportunity, diversity and inclusion are not social romanticism, but a powerful strategy, also in the negotiation process for space and budgets.
What will it take in the future
In the political arena, in education, in participation and planning processes, with regard to budgets, etc., aspects such as the following should be applied as criteria for gender, diversity and inclusion at all levels in the sense of social sustainability of open space planning and its maintenance:
the diversity of user groups, their needs and the social performance of open spaces need equal high priority in tenders, competitions, juries, political decisions, in budget allocations (gender budgeting);
more research, also evaluation of newly designed open spaces according to criteria of gender, diversity and inclusion;
more appreciation: design, beauty, justice of needs and diversity of use are not mutually exclusive;
Self-perception of the profession as serving societal and social developments and demands;
More expertise on gender, diversity and inclusion at all levels;
Making project experiences fruitful: project budgets for evaluation, monitoring and follow-up;
Budgets for professional care are sustainability in practice. They maintain the social performance of the free spaces, because care is understood by users as appreciation.
Outlook
Especially in times of crisis (housing crisis, climate crisis, war, fear of restrictions, etc.), open spaces can not only be compensation areas, but also important places for positive community experiences, and thus many can anticipate or try out innovative solutions. Last but not least, open spaces can also be spaces for social innovation.
In our time, the fight for open spaces, the diversity of justified needs and the equal rights of all users are in the focus of politics, society and profession.
We landscape architects can make forward-looking contributions to the most pressing issues of our time. We are challenged to think and develop complex social and spatial contexts and thus to make a relevant social contribution to the questions of the time and the future.
---
---
Author: Barbara Willecke, landscape architect bdla, planung.freiraum barbara willecke, Berlin. The text appeared in the bdla association journal "Landschaftsarchitekten" 2/2022.
Latitude:

0

Longitude:

0